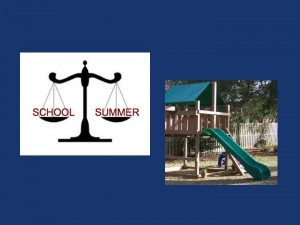 We know from extensive research that without continued reading in the summer, students fall back in their reading achievement. The good news is that the latest research shows students who read at least 4 books over the summer maintain or even increase their skills. Reading is a skill that continues to improve through practice. The more you read, the better reader you become. Children who are good readers enjoy reading.
Strategies to avoid the summer slide
• Ramp up the "pleasure principle" in reading and love of story.
• Increase the time you read aloud and talk with children about what they read. Children who talk about a story have better comprehension skills, which build their confidence as readers. Children need confidence to enjoy reading.
• Find a balance between school time reading and summer time reading. Summertime reading should be all about pleasure.
• SLOW DOWN: get off the literary stair master. I would rather your children read fewer books, know and love them well, than read many books they don't really like or even remember.
• Re-reading is not cheating! Encourage your children to revisit the books they have read. Everyone gets more from a book they have read more than once.
• Allow your children choice in what they read
• Audio books are terrific—and they build vocabulary and instill a love of story. They are also not associated with school assignments.
• Relax and let go of how challenging a book is—please do not tell children the book they are reading is too easy.
Set an example and follow your good advice: Read more this summer and enjoy what you read.